Have you heard the buzz about Facebook Success Summit 2011—the web's largest online Facebook marketing conference? I'm going to be there for sure!
Before I tell you how this virtual summit will help your business attract great customers and prospects, gain a unique competitive advantage, and measure your Facebook marketing results, let me share a story with you.
PROOF FACEBOOK MARKETING WORKS…
About a year a half ago Michael Stelzner (founder of Social Media Examiner) started a Facebook page for his blog that targeted marketers and small business owners. He also integrated core Facebook functionality into his website. Almost overnight, a large and loyal community emerged on his Facebook page.
He was skeptical at first. But now he has more than 50,000 active Facebook fans. And Facebook is the number two source of traffic to his website. Facebook was instrumental in generating 1.7 million dollars in sales for his business last year.
Michael's story is not unique. More than 10,000 websites are integrating Facebook functionality every day! With 750 million active users, Facebook offers an incredible opportunity for marketers.
Your customers (and prospects) are using Facebook every day. It's a new marketing frontier because Facebook bypasses all the costly middlemen and allows you to engage directly with your customers and prospects! AND this presents an enormous opportunity for you.
SO WHAT'S THIS ABOUT?
<a href="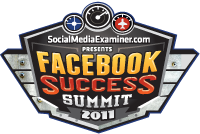 Michael (and his team) have been working for months to bring the best minds in social media together in a fully online event called Facebook Success Summit 2011.
A significant 2,900 marketers and business owners from around the world attended his last Success Summit. Businesses were transformed. In fact, 96% of attendees said they'd attend again.
This summit's focus is to empower you to implement successful Facebook marketing tactics, track and measure your Facebook ROI, and see how successful Facebook campaigns were executed. Nineteen of the world's leading Facebook superstars will be summit instructors.
Presenters include Guy Kawasaki (author, Enchantment), Mari Smith (co-author,Facebook Marketing), Dave Kerpen (author, Likeable Social Media), Paul Dunay(co-author, Facebook Marketing for Dummies), Jesse Stay (author, Facebook Application Development for Dummies), Robert Scoble (co-author, Naked Conversations), Michael Stelzner (founder, Social Media Examiner), and experts from Intuit, PETCO, Applebees and Intel.
Plus join Jay Baer (co-author, The Now Revolution), Chris Treadaway (co-author,Facebook Marketing), Amy Porterfield (co-author, Facebook Marketing All-In-One for Dummies), and Andrea Vahl (co-author, Facebook Marketing All-In-One for Dummies)–just to name a few.
Attendees at our last summit included well-known organizations such as General Mills, American Express, Intel, San Francisco Giants, Coca-Cola, Microsoft, Intuit, Harvard Business School, 3M, Kellogg, Staples, General Electric, MetLife, HP, Fox TV, LexisNexis, and the U.S. Army. But you don't need to be a big business to benefit!
This is the world's largest online Facebook event designed to empower marketers and business owners to master Facebook marketing. And the great news is it's a live online conference you can attend from your home or office.
Here's to your success!